In the realm of high-fidelity audio, few enthusiasts embody the pursuit of sonic excellence as passionately as Thomas Svensholt. With an unrelenting passion for music and an uncompromising dedication to audio quality, Thomas has meticulously curated a sound system that epitomizes the epitome of auditory delight. Every component in this setup, from the finest amplifiers to top-tier speakers and cables, has been carefully selected and integrated to provide an unparalleled sonic experience. Join us on a journey through Thomas's remarkable audio world, where each note is an invitation to immerse oneself in the purest form of musical artistry.
Amplifiers: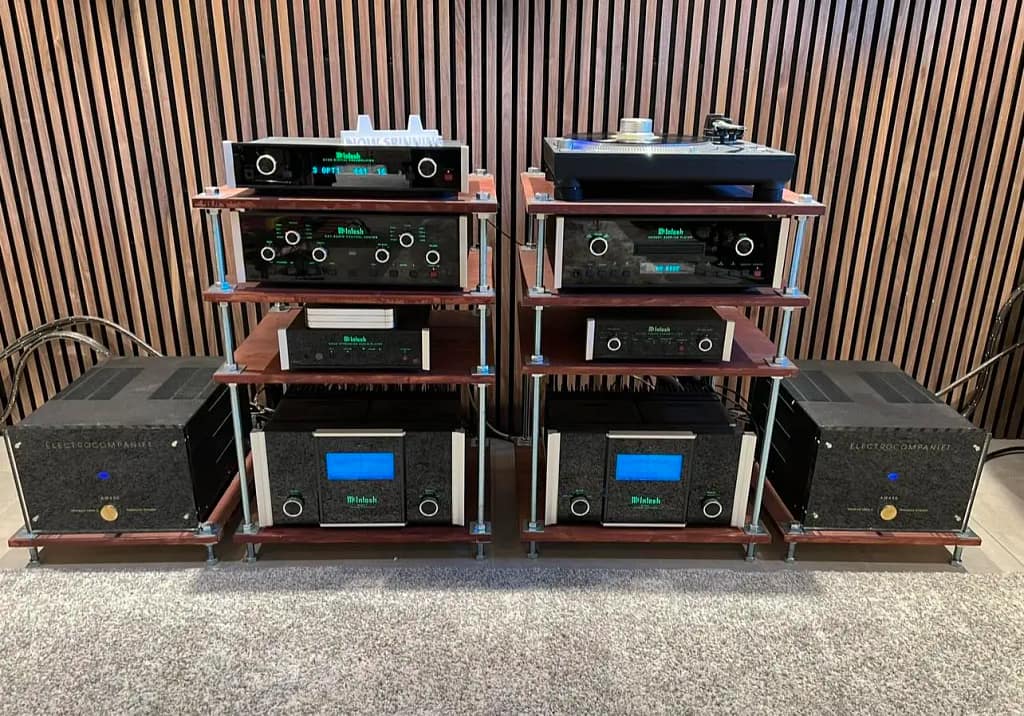 Electrocompaniet AW400 Mono-Blocks:
The Electrocompaniet AW400 mono-block amplifiers serve as the cornerstone of Thomas's sound system. Renowned for their exceptional build quality and sonic performance, these amplifiers provide the power needed to drive the speakers with precision and finesse.
McIntosh MC501 Mono-Blocks:
Complementing the Electrocompaniet amplifiers are the McIntosh MC501 mono-block amplifiers. A stalwart in the world of audio, McIntosh amplifiers deliver pristine power and detail, seamlessly integrating with the Electrocompaniet counterparts.
Digital Processing:
McIntosh D100 DAC:
At the heart of the digital audio processing is the McIntosh D100 digital-to-analog converter (DAC). This critical component transforms digital audio signals from various sources into a rich analog format, ensuring a lifelike sound representation.
Preamplification:
McIntosh C41 Pre-Amplifier:
The McIntosh C41 pre-amplifier stands as a crucial element in controlling and fine-tuning the audio signals before they reach the amplifiers. Known for its superior sound quality and robust build, it optimizes the audio for an impeccable listening experience.
Playback Devices:
McIntosh MCD201 SACD/CD Player:
The McIntosh MCD201 SACD/CD player guarantees top-notch playback quality for both CDs and Super Audio CDs (SACDs), enhancing the overall audio fidelity and providing a superior listening experience.
McIntosh MB50 Streamer:
For modern streaming capabilities, Thomas incorporates the McIntosh MB50 streamer, allowing seamless access to a vast array of digital music sources and platforms.
Electrocompaniet Rena SR-1A Streamer:
The Electrocompaniet Rena SR-1A streamer provides additional streaming options, further enhancing the flexibility and choices for accessing digital music content.
McIntosh MP100 Phono Preamplifier:
For vinyl enthusiasts, the McIntosh MP100 phono preamplifier ensures that the delicate analog signals from the turntable are amplified and refined to match the high standards set by the rest of the system.
Turntable Setup:
Technics SL1210-GR with Ortofon Quintet Black S:
Thomas's turntable setup features the Technics SL1210-GR paired with an Ortofon Quintet Black S cartridge and LH2000 shell, delivering exceptional vinyl playback quality.
Cabling and Bi-Amping:
The cabling in Thomas's setup is carefully chosen to maximize the potential of the components. Nordost Purple Flare and XLO cables are used for speaker connections, allowing for efficient bi-amping and balanced connections throughout the system.
Speakers:
Revel Ultima Salon:
The Revel Ultima Salon speakers stand as the primary sound emitters in Thomas's setup. Renowned for their clarity and accuracy, these speakers offer a true high-fidelity listening experience.
B&W 802 D:
Complementing the Revel speakers, the B&W 802 D speakers bring their own unique sonic signature to the setup, enhancing the overall audio spectrum and filling the listening space with rich sound.
B&W Matrix 801 S3:
The B&W Matrix 801 S3, meticulously restored and upgraded with new midrange boxes, tweeters, and crossovers, contributes a vintage touch to the setup while delivering exceptional audio quality.
TV Setup:
McIntosh M7100 Power Amp and C712 Pre-Amplifier:
For the TV setup, Thomas employs the McIntosh M7100 power amplifier and C712 pre-amplifier, ensuring that the audio accompanying visual content is as captivating and immersive as the music in his collection.
Electrocompaniet EMC1 UP CD Player and ECD2 DAC:
The Electrocompaniet EMC1 UP CD player and ECD2 DAC are utilized for playback and digital audio processing, respectively, ensuring a high-quality audio experience with TV content.
TV Speakers and Subwoofer:
B&O BeoLab 5000 and Tannoy 10" Subwoofer:
Thomas has chosen the B&O BeoLab 5000 speakers and a Tannoy 10" subwoofer to provide an impressive audio setup for his TV, further enhancing the immersive experience when watching movies or shows.
Conclusion:
Thomas Svensholt's sound system is a testament to his unwavering passion for music and relentless pursuit of audio perfection. Every component, carefully selected and meticulously integrated, comes together to create an auditory experience that transcends mere sound. In Thomas's audio sanctuary, each note resonates with pure emotion, enveloping the listener in the true essence of musical artistry.

If you have any questions or are curious to learn more about Thomas Svensholt's impressive high-end sound system, the components he chose, or his approach to creating an exceptional auditory experience, feel free to leave your inquiries in the comment section below! Thomas is eager to share his knowledge and passion for audio excellence with fellow enthusiasts.