In a tranquil corner of Spinea, Veneto, Italy, Simone Marcato, Partner, and CTO at Hevelop, embarked on an extraordinary audio journey that encapsulates the perfect blend of auditory and visual delight. Simone's quest led him to curate a home audio and theater setup that is a testament to his passion for music and movies, a relentless pursuit of quality, and a mindful budget.
Simone Marcato's Vision: A Sonic and Cinematic Oasis
Simone's audio journey wasn't just about assembling a collection of electronic components; it was a quest to create an oasis of sound and vision within the confines of his budget. His objectives were simple yet profound – to craft a system that would elevate both music listening and cinematic experiences to their zenith.
With an astute eye for deals, Simone Marcato meticulously acquired the components for his setup, carefully selecting each element to harmonize perfectly in his 7.1.2 configuration. Here's a glimpse of his magnificent audio landscape:
Klipsch RP-8000f: The Heartbeat of Sound Simone's setup is anchored by the Klipsch RP-8000f, serving as the main left and right channel speakers. These behemoths deliver a symphony of sound, captivating the listener with their prowess and clarity, ensuring every note and dialogue is heard with precision.
Klipsch RP-504c II: The Center of Attention For impeccable dialogue and a seamless cinematic experience, Simone invested in the Klipsch RP-504c II, the center channel speaker that anchors the on-screen action with its unwavering clarity and presence.
Klipsch RP-600m: Surrounding Elegance Simone's audio sanctuary extends to the left and right surround with Klipsch RP-600m speakers, creating an immersive soundscape that wraps around the audience, making every audio nuance felt.
Klipsch RP-502s: Enveloping Surround Sound To ensure a 360-degree audio experience, Simone employs the Klipsch RP-502s speakers as left rear and right rear surround speakers, delivering a captivating audio panorama that brings movies to life.
Klipsch RP-500sa: Reaching New Heights To ascend to new audio heights, Simone has incorporated Klipsch RP-500sa speakers as left front top and right front top atmos speakers, providing an enthralling three-dimensional audio experience that redefines immersion.
Klipsch SPL-120: The Deep Resonance of Bass No audio journey is complete without robust bass. The Klipsch SPL-120 subwoofer ensures that each note and rumble is felt, intensifying the impact of movie explosions and musical lows.
"Visual Delights: A Glimpse of Simone's Enthralling Audio Setup"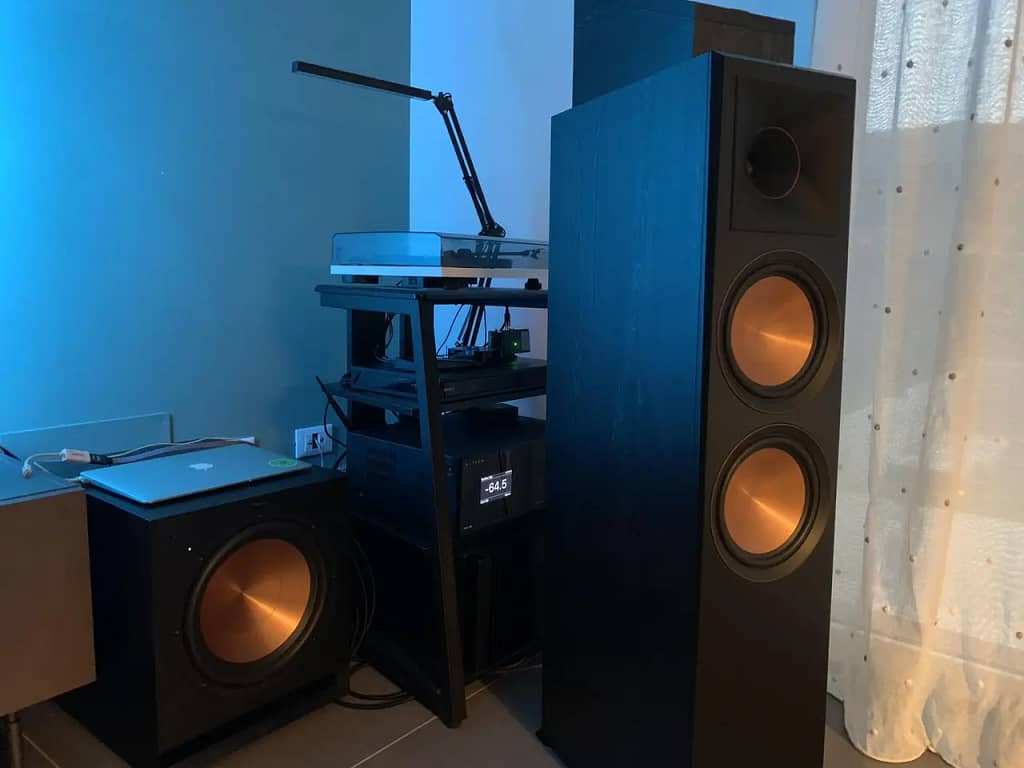 In addition to Klipsch speakers, Simone's audio setup comprises several other components:
Amplification Elegance Simone's setup boasts amplifiers that bring the best out of his speakers. The Carver TFM-45 powers the main left and right channels, while the Rotel RMB-1095 feeds the center, surrounds, and surrounds back speakers.
Anthem MRX-740: Elevating the Atmosphere Simone utilizes the Anthem MRX-740 to amplify the front top atmos speakers, creating a sonic atmosphere that resonates with cinematic magic.
The Digital Touch For digital music streaming, Simone relies on the Raspberry Pi4 with Hifiberry Digi hat as a Roon endpoint, ensuring high-quality sound for his music collection.
The Analog Warmth Simone's setup also pays homage to vinyl records with the Pro-Ject Phono Box MM phono preamp and Pro-Ject Debut One turntable, preserving the vintage warmth and depth of analog audio.
The Complete Entertainment Package Simone's setup isn't solely about sound. It seamlessly integrates the world of gaming and high-definition visuals with the PlayStation 5, Casiris OmniStar 1080p projector, and a spacious 120″ projector screen. The Sony UBP-X800 Blu-ray player adds the finishing touch, guaranteeing that his movie collection is experienced in stunning detail.
Simone Marcato: Audio journey is a captivating tale of a harmonious union of music, movies, and technology. His setup is not just a collection of equipment; it's a symphony of sights and sounds, meticulously chosen and masterfully assembled. In Spinea, Italy, Simone has fashioned an auditory and visual masterpiece that invites you to immerse yourself in the art of sound and cinema.

Simone Marcato's meticulous curation of an audio and theater setup has earned him a well-deserved spot in the top 5 of the prestigious "TopBuckets Best Budget Sound Setup" list, a testament to his dedication to achieving the pinnacle of audio and visual excellence without breaking the bank.

"Simone Marcato's Green Light: Peter Approves Licensing His Journey with Topbuckets for Publication"
If you have any questions or are curious to learn more about Anup Mistry's simple high-end sound setup, the components he chose, or his approach to creating an exceptional auditory experience, feel free to leave your inquiries in the comment section below!