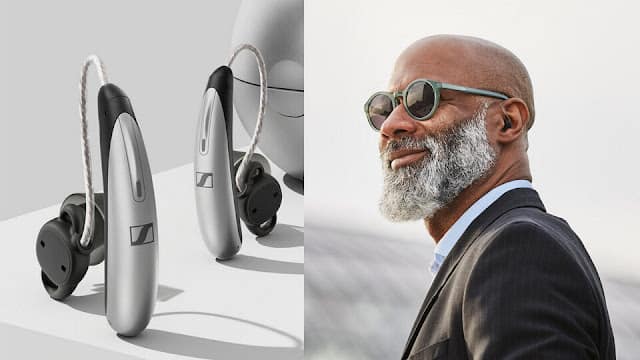 A division of a well-known audio company, Sennheiser Hearing, introduced, in fact, TWS headphones (judging by the form and feature set), which are positioned as "over-the-counter hearing aids" (Over-the-Counter Hearing Aids). For Sennheiser, this is a new class of devices for the US market. Many "headphone" firms are urgently developing similar models due to the recent change in the requirements of the US FDA (Food and Drug Administration).
Both new products, All-Day Clear and All-Day Clear Slim, have already received approval from the same Food and Drug Administration for use "as traditional behind-the-ear (BTE) hearing aids with speech enhancement and other self-adjusting features" .
"OTC legislation allows us to fill a significant gap in the hearing aid market by enhancing ready-to-wear solutions with our extensive experience in acoustics and speech enhancement," said Clara Beck, Sennheiser Hearing Aid Category Director. The new products also use the experience and licenses of Sonova, a specialist in hearing care.
Both models support Bluetooth and are able to work on a single charge up to 16 hours. Settings are available in the All-Day Clear app, adapted for Android and Apple mobile devices. New items will appear in mid-summer July on the Sennheiser Hearing website, in retail stores and from specialized specialists.
In the US, the MSRP for Sennheiser All-Day Clear and All-Day Clear Slim hearing aids is $1,400 and $1,500, respectively.