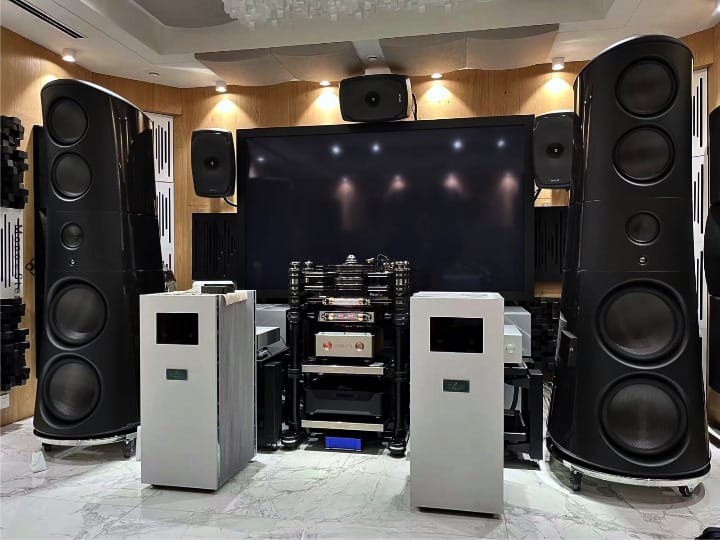 Welcome to the world of high-resolution audio downloads! If you're seeking the finest listening experience with unmatched sound quality, you've come to the right place. In this guide, we'll introduce you to the best websites where you can discover and download high-resolution audio in its purest form.
These platforms offer a wide range of genres, from classical masterpieces to contemporary hits, all available in high-fidelity formats like FLAC, ALAC, and DSD. Immerse yourself in the world of pristine sound quality and embark on a musical journey like never before. Whether you're an audiophile, a music enthusiast, or simply someone who appreciates the richness and detail of high-resolution audio, these websites will cater to your discerning taste and elevate your listening experience to new heights. Get ready to explore and indulge in the best high-resolution audio downloads available online.
1. HighRes Audio
About:
HighResAudio offers a comprehensive collection of high-resolution audio downloads in formats such as FLAC, ALAC, and DSD. They collaborate with labels and artists to deliver high-quality recordings across different genres.
It's important to note that the availability and selection of high-resolution audio downloads may vary among these websites. Additionally, some artists and labels may choose to sell their music directly on their websites or through other platforms. So, exploring specific artist or label websites can also lead to discovering high-resolution audio downloads.
Available file formats:
Classical, Jazz, Pop, Rock, Electronic, World, Folk, Blues, R&B/Soul, Country, Hip-Hop/Rap, Soundtracks, Metal, Alternative, and Indie.
2. Acoustic Sounds Super HiRez
About:
If you're looking for the finest selection of DSD music files, look no further than the Super HiRez site. This site brings 25 years of experience to the table and offers one of the largest selections of songs available in high resolution.
Available file formats:
DSD, FLAC, and ALAC.
Music Genres:
Blues, Pop/Rock, Classical, Female Vocalists, Folk, Jazz, and more.
3. Native DSD Music and Beyond
About:
The "native" in the title of this site is a testament to how seriously Native DSD Music and Beyond takes hi-res audio. It only offers downloads that were sourced as early as possible in a DSD session recording. DSD sessions lend themselves to acoustic music because they contain a low amount of instrument detail which can translate to sound quality degradation.
Available file formats:
DSD.
Music Genres:
Big Band, Classical, Classical Compilation, Classical Crossover, Gospel, Independent Acoustic, Jazz, Jazz Compilation, and more.
4. ProStudio Masters
About:
ProStudio Masters doesn't mess around with media transfers, offering only high-resolution digital masters that are directly received from labels. It includes a top sellers section so that you can find music that others have deemed worthy enough to add to their collection. It also offers a section that features recently added music, so you can always be on the brink of discovering the latest hi-res music.
Available file formats:
AIFF, ALAC, and DSD.
Music Genres:
Alternative, Blues, Classical, Country, Francophone, Holiday, Jazz, Pop, R&B/Soul, Rock, Soundtracks, and World.
5. iTrax
About:
iTrax offers high-definition audio and video downloads with surround sound (no, this isn't just for movies anymore). Whether you've invested in high-quality audio equipment like high-res headphones, home theater systems, or a hi-res music player system, you want the songs and other audio you play to sound as awesome as the artist originally intended. iTrax is an excellent place to build your music library because it only offers songs that are recorded using high-definition digital production.
Available file formats:
FLAC and WAV
Music Genres:
Acoustic/Guitar, Blues, Acoustic/Instrumental, Rock/Pop, Jazz, Classical, Country/Folk, Electric/Instrumental, World, Crossover, R&B, and Christmas.
6. HDtracks
About:
HDtracks, launched in 2008, offers the largest variety of available hi-res titles for download along with a wide choice of file formats, with sample rates as high as 352/24-bit. The HDtracks team shares its philosophy that everyone involved in the creation process should be acknowledged and they encourage all of their customers to learn more about the production process. Quality control is key as they test every album file.
Available file formats:
AIFF, ALAC, WAV, FLAC (and DSD coming soon).
Music Genres:
Rock, Classic Rock, Pop, Jazz, Classical, Country, Electronic, Folk, Fusion, and many more.