For the 10th anniversary of 3daysofdesign, Bang & Olufsen invites visitors to Conversations in Sound, an exhibition that celebrates Bang & Olufsen's latest speaker, Beosound A5 designed in collaboration with the Danish / Italian Duo GamFratesi.
The immersive installation will explore the intricate relationship between people, space, and sound through GamFratesi's experimental approach to materials and techniques. Through an exploration of materials, craftsmanship and design, the exhibition will showcase Bang & Olufsen's commitment to timeless design and acoustic excellence whilst creating a convivial atmosphere that encourages creative conversations amongst guests.
"Conversations in Sound will bring Beosound A5 to life for the public to enjoy. We're extremely proud of our Danish heritage, and 3daysofdesign is the perfect event to celebrate Beosound A5 in an experiential way. We wanted to tell the design stories we embarked on with GamFratesi to bring this revolutionary speaker from an initial sketch to a finished product", says Bang & Olufsen Chief Marketing Officer, Kamel Ouadi.
Enveloped in paper raffia
As guests enter the venue, they will be enveloped in paper raffia, a material that was integral to Beosound A5 and GamFratesi's design process. Beosound A5 is the first time Bang & Olufsen has applied this material to a speaker design, championing a 98-year heritage of pushing craftsmanship and design within the industry. Throughout the exhibition, visitors will discover the design process for Beosound A5, including the materials, prototypes and sketches that informed the final design as well as products from Bang & Olufsen's archive.
"Our inspiration for Beosound A5 came from many places including the iconic Beolit series as well as natural materials synonymous with the colours and textures found in Scandinavian nature", say GamFratesi. "From the traditional Panama straw hats worn on beaches, to the hand-woven leather accents of Danish chairs from the 1960s, blends of natural materials applied in experimental ways guided our design journey. This aesthetic continued beyond Beosound A5 and into the exhibition".
At the heart of the exhibition is a community space where visitors can take a pause, meet likeminded creatives, and strike up conversations at the solid oak tables designed by GamFratesi to discuss sound and design. Visitors can enjoy the integrated Prolog pop-up café serving complimentary Prolog Coffee and Danish pastries from Juno Bakery whilst listening to music from an eclectic vinyl collection curated by Danish composer and producer Kasper Bjørke. Guests can play their record on the iconic Beogram 4000c turntable and listen through Beosound A5, creating a connection between Bang & Olufsen's past and present products.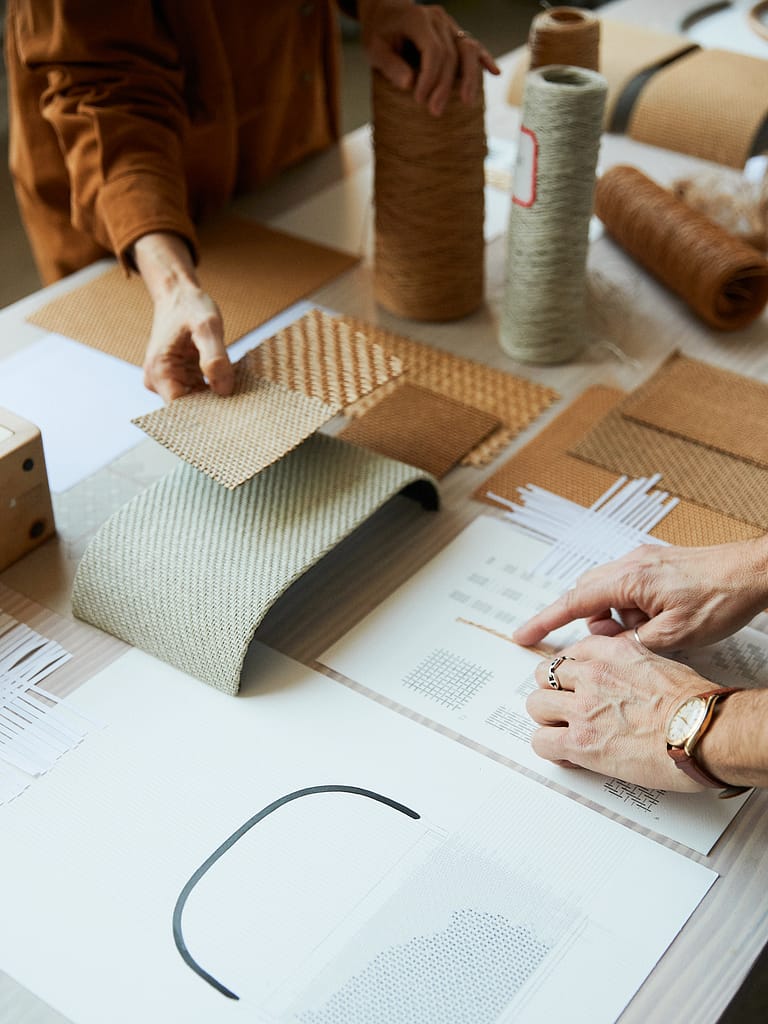 Celebrating Beosound A5
Beosound A5 sits at the junction where portable and home audio meet. The solid oak handle allows the speaker to be carried with ease, whether placed on the floor, shelf or table. Thanks to an IP65 water and dustproof rating, Beosound A5 can also be taken outside. With more than 12 hours of playtime and a wireless phone charger integrated into the top panel of the speaker, Beosound A5 is Bang & Olufsen's most versatile speaker to date, and the perfect portable audio companion.
press.bangolufsen.com
Join Bang & Olufsen at 3daysofdesign:
Conversations in Sound will run throughout 3daysofdesign in Copenhagen, from 7th – 9th June. The exhibition is open daily from 11:00 to 17:00 and is free to visit.
Join a panel talk 'From Function to Form: The Secret to Timeless Design' with Bang & Olufsen's Head of Product Circularity, Mads Kogsgaard Hansen, Stine Gam and Enrico Fratesi from design studio GamFratesi and Annette Lendal from Lab21st to learn how we can utilise Scandinavian design principles anchored in longevity and circularity to reverse the industry trend of consumerism and obsolescence. The talk is free to attend on 8th June from 14:00 – 14.30.
Exhibition dates: 7- 9th June
Exhibition opening hours: 11:00 – 17:00
Panel talk: 8th June, 14:00 – 14:30
Address: Bredgade 75, 1260 København K